Does your Scout like to make things? To tinker?  Does he like being around other people making things?  From writing code to etching glass, that's what the makerspace movement is all about. And it's happening all over the world, including in Utah.
To clarify, makerspaces (or hackerspaces) are places with tools for making things and with people who can help you use them. Spaces focus on a wide variety of projects. Many makerspaces have 3D printers, woodworking tools, or electronics supplies. Their capabilities can vary—some may even focus on making music. Many makerspaces operate through a non-profit model and/or require membership fees. Makerspaces are open for public use.
We have some excellent ones in Utah. I recently visited three and will highlight them here. But, keep in mind there are others, perhaps closer to you. The three I visited were AISU's makerspace, Provolt, and Make Salt Lake.
Makerspace at the American International School of Utah (AISU)
In Murray, you'll find the makerspace at the American International School of Utah. It's such a gem. The moment we walked in the front doors of the school this view greeted us.
Walking the halls, we heard inviting music from a choir and then from an orchestra. We peered into classrooms to see the majority of students engaged in what they were doing, interested in it. Of course, one of the best examples we found was the makerspace.
AISU has a strong STEM program (and arts program). They learn by doing. In the makerspace, students were hard at work making coin sorters.
We gawked at the available equipment including 3D printers (they have six) and a CNC router assembled by a student because the teachers were busy with the demands of a new school.
All this making is supported by a staff of STEM teachers; each holds an engineering degree. Tyler, pictured below, is a mechanical engineer, cheerful and ready to help. His students were having fun and working like a humming machine.
Next, we entered the robotics lab to see other students at work on 3D modeling. They have access to Autodesk Inventor software (a modeling program), apparently available through a free educational license, though it is professional-level software. Walking out of this room, we noticed the bathroom pass– a 3D printed toilet.
The American International School of Utah is a K-12 public charter school where Utah parents can send their kids—and then those kids would have access to the makerspace. The school even has opportunities for students who are not enrolled full-time. So, if your kids are homeschooled they can still participate in the learning at AISU. Contact them to see how.
AISU opened in 2014. Though it is located in Murray, that doesn't stop students as far away as Layton from attending. And, what makes the Utah school an international school? Well, simply put, about 20% of the school population is made up of international students.
After the makerspace and robotics lab, our tour guide Kate Youmans, Director of STEM, took us by other spaces designed for students in the subjects of science, technology, engineering, and math (or STEM). Kate too has an engineering background, and she appeared to have a good connection with students and a congenial leadership style. We went by a design studio, two "Mac labs", and a wood carving space. My friend and I noted how awesome it would have been to have these things when we were that age.
ProVolt
Further south, in Provo, you'll find the ProVolt makerspace run by John Fenley. Something unique about the non-profit ProVolt organization is that, at the time of this publication, people can become members for free. You can go and use the space without having to pay.  So, make your project ideas into realities. Plus, they have some impressive tools.
The coolest tool, in sheer size and power, is the water jet. It's called the Omax 2652, and it can cut through virtually anything using a tiny stream of water mixed with abrasive material. The nozzle is diamond-tipped, its hole so small it's hard to see– it shoots an abrasive fluid at a pressure of tens of thousands of pounds per square inch. Take a look at it. Setting the video quality to HD may help you see the jet cutting steel.
It should be noted: Because the water jet is such an expensive piece of equipment, there is a fee to use it. I'd also recommend some supervision for your kids who want to use it, the 3D printer, the impressive drill press or the electronics supplies. But by all means, it's a great place to bring your kids to help them learn some STEM skills. See the following photos to get a better feel for the place.
Make Salt Lake
In Salt Lake City, you'll find Make Salt Lake. They have three main rooms. The first room I visited housed 3D printers, a laser cutter, an electronics bench, leatherworking tools and more. The next room was a full on wood working shop. They also have a metal shop with a drill press, expensive tools that cut things, and this LED sign.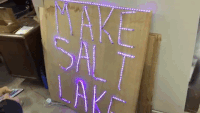 Make Salt Lake requires a membership fee. However, they typically host multiple events a month where they welcome the public for free and let them check out the space, even work on projects—see their Meetup page. They provide training on various tools. If you're going to bring your teen or preteen child, I'd recommend some adult supervision, especially at the beginning.
Check out some photos from Make Salt Lake:
Mobile Makerspaces
Nowhere close to a makerspace? There are some makerspaces in Utah which travel to you. 4-H Makers on the Move, for instance, allows teenagers to sign up for a wide variety of classes. An expert teacher comes with the trailer (or needed equipment) to visit your school, 4-H club, Scout group, public library, etc. It doesn't cost any money to get the trailer, but each individual usually pays a $5 fee for a class. You can book the trailer through the Utah County 4-H office.
The Wonderment maker bus in Salt Lake provides opportunities for refugees in the community to get involved in creating.
Makerspaces
All in all, makerspaces provide an incredible opportunity for kids to get hands on experience and use their science, technology, engineering, and math skills both in Utah and places around the globe.
---
Makerspace List
Here are some additional makerspaces organized by location. Email me at joehoskisson 'at' gmail 'dot' com if you know of more, and I can update this list.
Utah:

Author: Joe Hoskission | Founded Climbing Tree – STEM education resources.